Items tagged with 'little+big+planet'
Thursday 27th November 2008
Little Big Planet, the PlayStation 3 video game that I've been waiting a long time for, finally came out at the end of last month.
I've teamed up with Spaff and we've come up with some great ideas for the growing community, so we went ahead and made our own community site. We've just finished the first phase of it and its online now at www.littlebigplanetoid.com.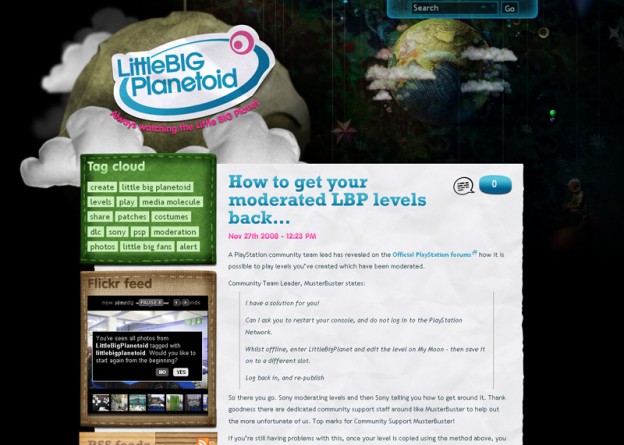 Since recently deciding to leave my last full time job, in disgust at the companys behaviour, I'm a full time freelance designer - so its been easier to squeeze this in amongst my new projects lining themselves up at the moment.
The design of Little Big Planetoid was done quite quickly but its always nice to flex out ideas with personal projects. The number of 24-bit PNG's is almost silly, but it looks quite nice so, well - screw those IE 6 users, eh?
My recent TK Page Title module for Expression Engine has come in really handy during the development of the site. Infact, it's led to me refining the module further.
Anyway, if you're interested in the game, then head over to Little Big Planetoid, they'll be lots more content heading on to the site in the coming months. Oh, almost forgot to mention its sister site, which I also designed and built recently, Little Big Fans - kind of a web-ring for fan sites of the game.
---
Tuesday 7th October 2008
The beta trial for Little Big Planet goes on. And the creativity of its players is simply astounding.
We've had a musical version of Sweet Child of Mine, Space Invaders, Mario and of course penises. Not to mention a million other crazy levels.
But last night I found perhaps the most impressive of all these creative concoctions.
A mere 2 weeks in to the public beta of Little Big Planet and someone has made an 8-bit calculator.
Its creator says that in total, it uses:
650 magnetic switches
550 Wires
470 pistons
The mind boggles.
---
Saturday 13th September 2008
I was looking at Septembers copy of Qore magazine, a U.S based downloadable interactive magazine for the PlayStation 3, and I saw this: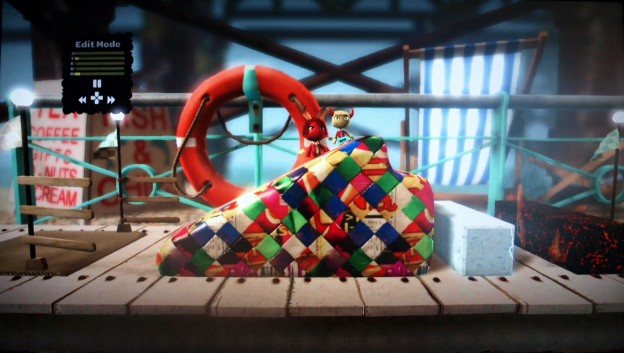 Clearly, those are the railings on Brighton seafront! Nice one. Whoever you are in the world who made those railings, they are wicked.
---
Wednesday 23rd July 2008
Whilst watching the latest Little Big Planet trailer over on the new official website, I was pleased to see that the game now officially includes GIANT ENEMY CRABS.
Excellent news!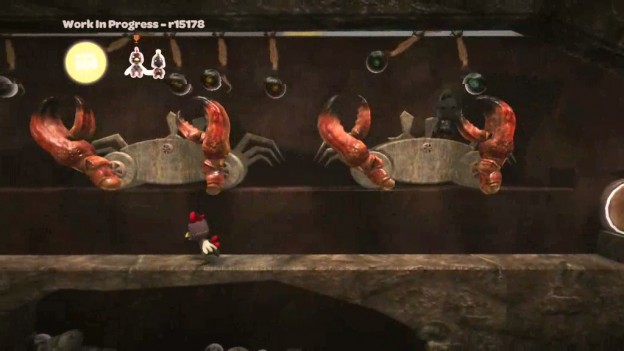 ---
Thursday 17th May 2007
Still looks beautiful. Carboard box dude ftw.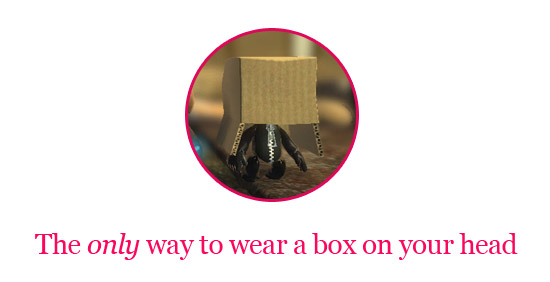 Oh, sorry - and the trailer (complete with typo):
---
Page 1 of 1 pages