Sunday 22nd February 2009
It doesn't seem like it was 9 months ago when it last snowed in Brighton, but it did last April. This year when it snowed (considerably more than last year might I add), I headed out with all the other photographers to take some pics.
---
Wednesday 14th January 2009
Time flies eh? I've not posted for ages now.
So. What have I been up to, I don't hear you cry? Well. The good news is that I've been pretty busy.
Firstly, I've been working with Brighton based design studio Yard. They've had a number of projects which I've been involved with and it's been great to work with their clients who include So Connected (part of the Selfridges & Co), Luxury Briefing and Blink eyebrow bars.
I've also been working for Mosaic, a full service agency. Working in-house at their central Brighton based office is great, giving me a change of scenery with some friendly faces.
I am also working with music promotion company Music House once more, overhauling their existing content management system and developing a long term digital download service for users of their music promotion service.
Along with a handful of other projects, I'm well and truly being kept busy at the moment. Expect a site update in the next few months with a portfolio update and examples of work. Hopefully.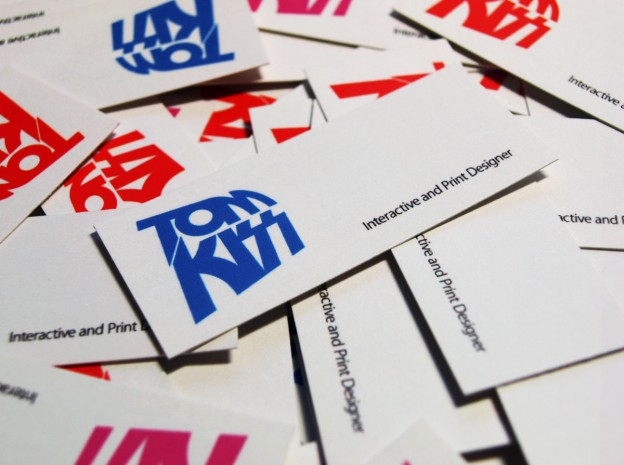 ---
Monday 15th December 2008
Me and my SingStar antics have managed to earn me my spot of fame on the TV show, 'Playr' which was on Bravo here in the UK on December 13th.
It's not the first time either, I was featured in Sony's official SingStar newsletter earlier this year. Oh yes that second clip of mine also featured Caroline, Charlie, Will and Jemima.
You can see more of my SingStar videos, including the ones they've removed from the game, on my YouTube channel.
---
Thursday 4th December 2008
Damn these cold mornings.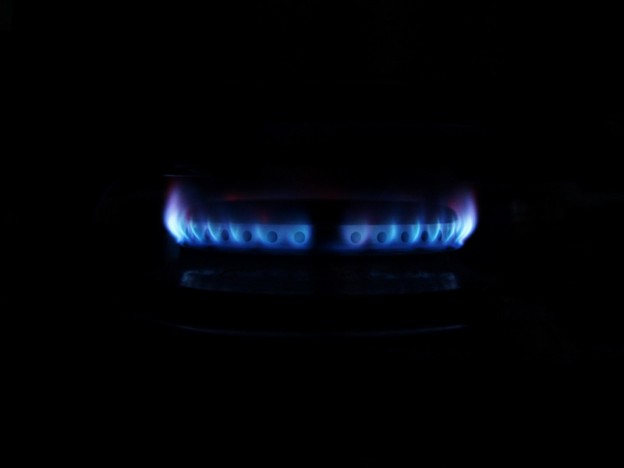 ---
Thursday 27th November 2008
Little Big Planet, the PlayStation 3 video game that I've been waiting a long time for, finally came out at the end of last month.
I've teamed up with Spaff and we've come up with some great ideas for the growing community, so we went ahead and made our own community site. We've just finished the first phase of it and its online now at www.littlebigplanetoid.com.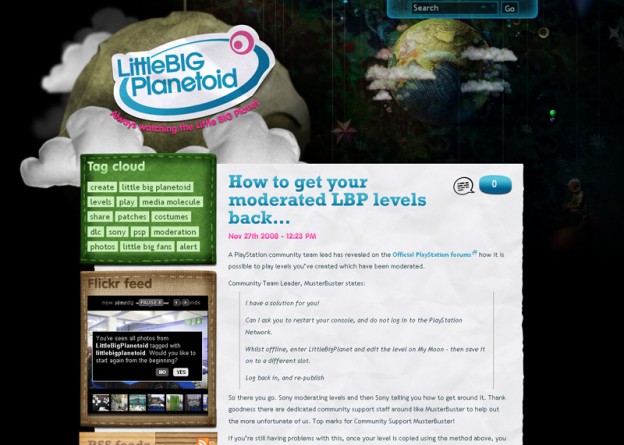 Since recently deciding to leave my last full time job, in disgust at the companys behaviour, I'm a full time freelance designer - so its been easier to squeeze this in amongst my new projects lining themselves up at the moment.
The design of Little Big Planetoid was done quite quickly but its always nice to flex out ideas with personal projects. The number of 24-bit PNG's is almost silly, but it looks quite nice so, well - screw those IE 6 users, eh?
My recent TK Page Title module for Expression Engine has come in really handy during the development of the site. Infact, it's led to me refining the module further.
Anyway, if you're interested in the game, then head over to Little Big Planetoid, they'll be lots more content heading on to the site in the coming months. Oh, almost forgot to mention its sister site, which I also designed and built recently, Little Big Fans - kind of a web-ring for fan sites of the game.
---
Monday 27th October 2008
I was in Cornwall with Mum over the weekend. This morning, Mabel continued to dig up her mouse hole. At least, it started off as a mouse hole and quickly turned in to trench, with no sign of a tiny mouse hole anywhere.
Watching her is interesting, she sort of goes completely mad and blocks out everything else around her. One of the most distinctive things she does is stick her nose deep in to the earth, then blow out through her nose, before breathing in again, with her nose still in the earth. We ('we' being family), call this 'snotting'.
This is what Mabel sounds like when she's digging and snotting:
Anyway, here she is in action...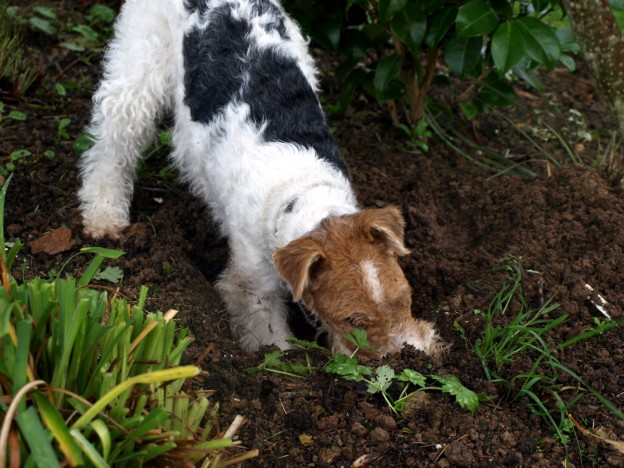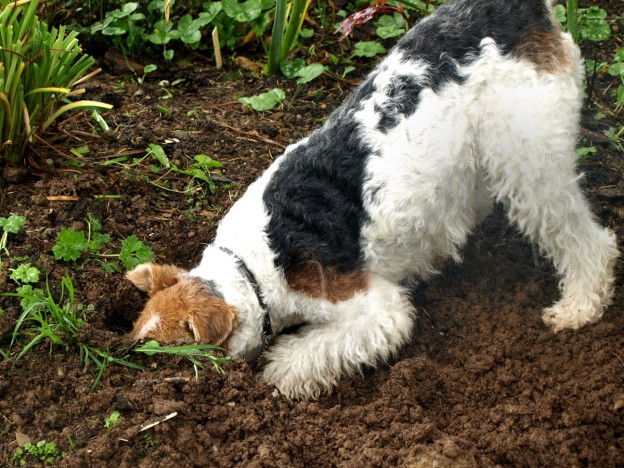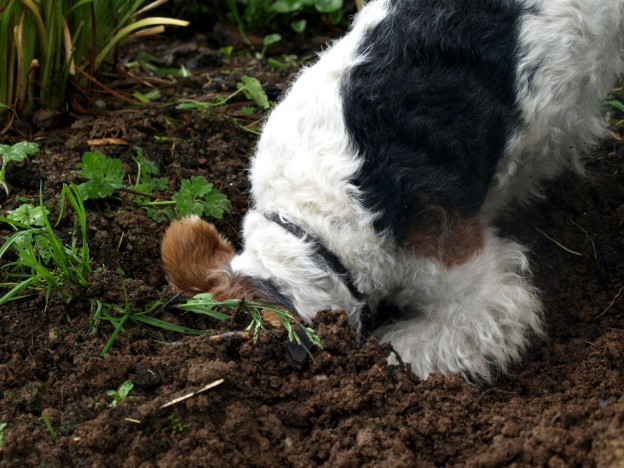 Mum gave her some bits of chicken afterwards. Look at that poonum...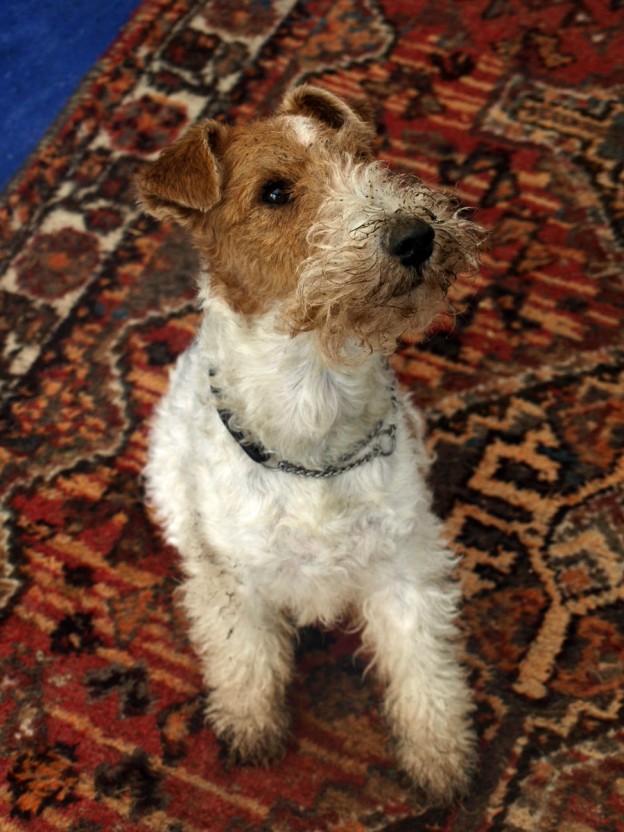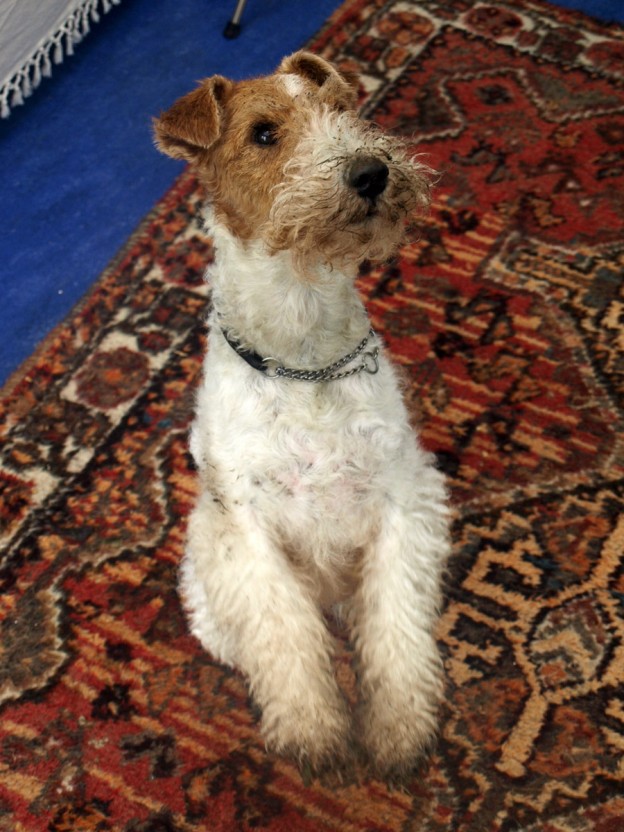 ---
Thursday 16th October 2008
I just saw this advert on Channel 4 TV, couldn't quite believe it. Sheer genius!
"The best a potato can get"...
---
Tuesday 7th October 2008
The beta trial for Little Big Planet goes on. And the creativity of its players is simply astounding.
We've had a musical version of Sweet Child of Mine, Space Invaders, Mario and of course penises. Not to mention a million other crazy levels.
But last night I found perhaps the most impressive of all these creative concoctions.
A mere 2 weeks in to the public beta of Little Big Planet and someone has made an 8-bit calculator.
Its creator says that in total, it uses:
650 magnetic switches
550 Wires
470 pistons
The mind boggles.
---
Saturday 13th September 2008
In 2005 I inherited my Dad's 1964 Moulton Safari. I didn't actually pick it up until 2006, I think, and that was when I started riding it. Unfortunately, soon after riding it became clear that there was a severe problem with the rear suspension arm - a known fault and weakness in the design that had caused the arm to tear apart at the point of stress. So, off to eBay I went to get myself a replacement rear suspension arm, and that is when my little journey of restoration began...
Well, today I took the bike out on a somewhat shorter journey, cycling up to the top of Elm Grove to meet Caroline who was horse riding today. There are still a few things to be tweaked, but essentially, the work is done.
I'm really pleased!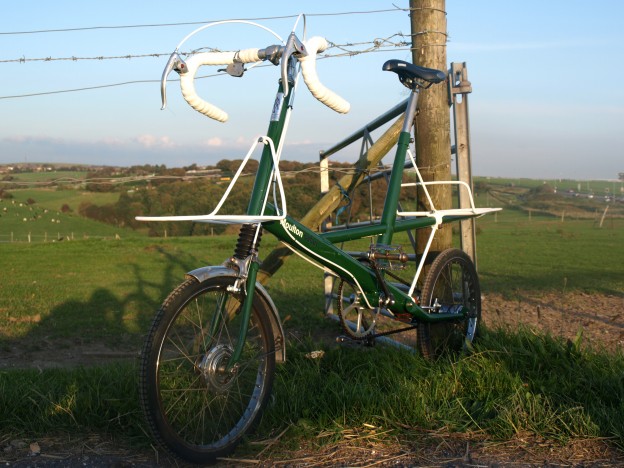 It has not been easy. To start with, I had to get the replacement rear suspension arm from eBay. It must have just been good timing as I found one immediately, but once I had it I then had to get reinforcement welding done to the weak spot. And of course, being a different colour, I then knew I would need to respray both the arm and the main frame. Which sounds easy initially, but that involves disassembling the entire bike, and that was tricky.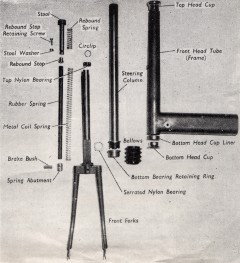 The front forks required an exceptionally long screwdriver, although to actually realise that, I first had to understand their construction. Luckily, Dad has kept just about everything from the bikes history. He even has the Army & Navy stores receipt from 24th September 1964, when he chirpily paid £95 7s. 11d. (95 pounds, 7 shillings and 11 pence) for the Moulton Safari and various extras. Though, interestingly, Dad opted to pay in 12 monthly installments, and so the interest of £4 4s., plus additional charges, meant that the total payable was £99 12s. 5d.
Other items in the stash of documents include the original guarantee, Moulton Bicycles Limited 1964 brochure, Sturmey Archer GH6 Dynohub lighting set maintenance instructions, Sturmey Archer FW wide ratio 4-speed hub gear maintenance instructions and an interesting article from an unknown November 1962 publication. There are plenty of other items too...

All these things were tremendously useful for me, the Sturmey Archer Hub Gear diagram, above, was fantastic and helped me to completely dismantle and clean the hub inside out. It is accompanied by detailed maintenance information and technical instructions. What a great example of how things used to be, when selling something and serving the customer was altogether a more innocent process. I'd love to see everything you buy come with a break apart diagram like that. Imagine buying a microwave with a fully labelled diagram, as well laid out and clear as the Sturmey Archer manual? I think there is definitely a disconnect nowadays with what we buy and our understanding of the items and how they actually work. I like to understand how most things work.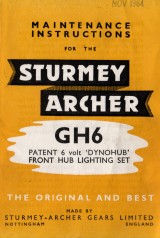 With the frame dismantled, I could send the parts off for respraying. Argos Cycles in Bristol took care of this, and did a mighty fine job at both the frame and the panniers- I couldn't believe it when I got the parts back. Very impressed with their quality, though it came at a price. I do have some regrets at not investigating further in to the options for colour matching against the original green though.
After that I started cleaning pretty much every part of the bicycle. Some parts were quite heavily soiled, with thick, dirty grease that needed some serious cleaning power. 'Pedro's Oranj Peelz Citrus Degreaser' was amazingly good. And for grubby hands too!
Along with some liquid Brasso and some elbow grease, every nut and bolt got its fair share of cleaning.
I had some parts to pick up - the rear suspension arm pivot bolt and the rear suspension arm rubber clamp (which required buying a pop-riveter). The Nut & Bolt shop in Hove came in extremely handy too.
Many parts with chrome are worn and I made a decision here not to undertake re-chroming. Mainly due to the cost, its a step too far on my budget. Perhaps it is something I can revisit in the future.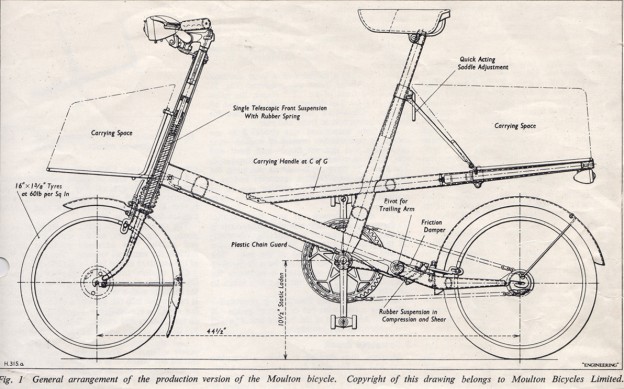 So, nearly there - it's not quite finished. I'm missing the bottle racks on the front, I have the front and rear lamps to attach and connect to the Dynohub and of course, we can't forget those distinctive black pannier bags (I have those too). But so far so good. It's nowhere near the standard as some of the bikes that I've seen in photographs elsewhere on the web (intimidating quality!) but I am pleased.
One thing is clear after riding the bike again today: The Moulton Bicycle is absolutely fantastic. It's a great feeling to be riding it again.
Huge thanks to Michael Woolf (without whose advice & parts, the bike wouldn't be back together!) and the Moulton Preservation society plus the excellent book, the Moulton Bicycle by Tony Hadland.
For the benefit of Moulton enthusiasts (I know you'll eventually find this article!), I've made some of the most useful documents available for download in high resolution. You can download them here, in a 44Mb zip file. Included in this file are the following:
1964 Moulton Bicycles product brochure
1964 Moulton Bicycles Limited maintenance leaflet and guarantee
1964 Sturmey Archer FW Wide Ratio 4-speed Hub Gear maintenance instructions
1964 Sturmey Archer GH6 Front Hub Lighting Set maintenance instructions
1964 GB Components & Spares Catalogue - Pages 7 and 8, detailing the COUREUR Plus SPORT MK.3 (on the Moulton Safari)
1962 November 9th article, "The Bicycle Revived by Fresh Design", reprinted from 'ENGINEERING'
Your Moulton lives on Dad! 44 years on!
---
Saturday 13th September 2008
I was looking at Septembers copy of Qore magazine, a U.S based downloadable interactive magazine for the PlayStation 3, and I saw this: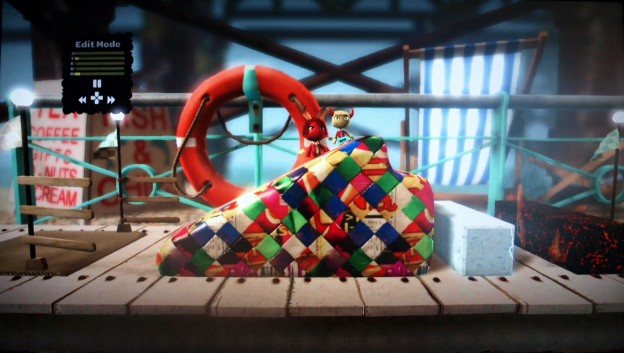 Clearly, those are the railings on Brighton seafront! Nice one. Whoever you are in the world who made those railings, they are wicked.
---