Items tagged with 'develop+conference'
Wednesday 23rd July 2008
Last week saw the arrival of the NCsoft billboard in central Brighton. The advert, for NCsoft, is up for 4 weeks at the top of North Road, which means it's up there during the Develop conference in Brighton.
This will be my first ever billboard, woot. Well - I say 'my' but the adverts' graft is essentially a 2 man job. Various ideas came up from discussions in the team, Will (fellow designer in the team) and I then developed suggested ideas to pitch internally.
The 'reflected worlds' creative got picked. Will and I set out to find a decent location for a shoot, which we then did the following week with Mat (our in house photograpy chap) and some suitably looking "Brighton" people.
Then the Photoshoping began, I got the initial composition sorted, tidied up all those horrible rusty railings along the seafront and made that water look a bit more inviting and all sorts of other tweaks. I passed it on to Will who did a fine job at sifting through the amends and perfecting the image to its final state. Done. Sorted.
I'm quite pleased with the end result. Will and I actually took some video clips of passers by to guage their reactions. Probably not the best idea that, ahem (it really is easy to forget what the average person knows about 'online games'). But still - the advert does what it set out to do: tell people that NCsoft are in Brighton and make online games. Woohoo. Pats on backs all-round.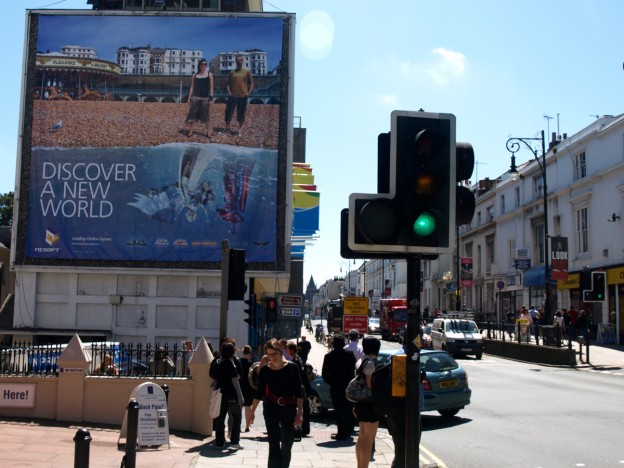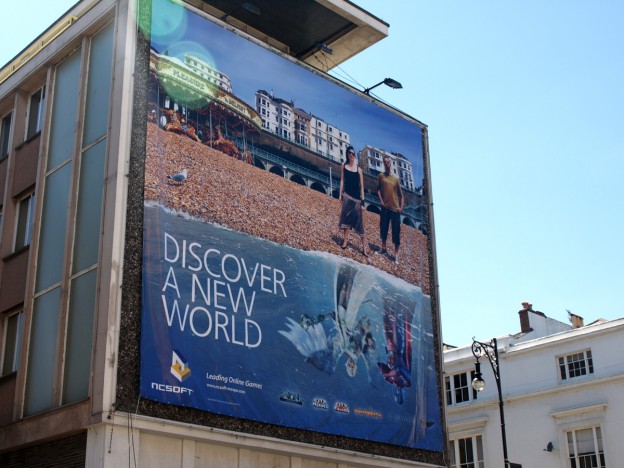 Keep an eye out for the Bling Gnome we hid in there ;)
---
Page 1 of 1 pages