Items tagged with 'blu+ray'
Saturday 5th May 2007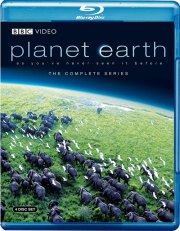 There is a fairly drab selection of Blu Ray discs available in UK shops currently and if you're a PlayStation 3 owner looking for juicy High Definition content for your juicy new console and HDTV, then it's frankly disappointing.
I was pleased to discover however that seemingly most Blu Ray discs are infact region free. They have a region, but they're still region free. Odd. It's not as clear as HD-DVDs, where, apparently they are all region free - but still. Most are.
So, armed with that knowledge, provided by a very helpful webpage, a few weeks ago I went shopping over at U.S retailer (but distribution based in U.K) movietyme.
I picked myself up 4 discs:
BBC Planet Earth 4 disc set - Seriously worth buying. Simply amazing HD footage and quite possibly the best HD disc available. Of course, I won't even begin to rant about how the hell America gets this BBC series on HD-DVD and Blu Ray before us, in the U.K.
Superman Returns - Ok movie (Kevin Spacey is great), excellent quality HD video and even better sound.
A Scanner Darkly - The animation is great and looks fantastic in HD awesomeness. But the film itself I found very boring. Straight to eBay.
The Corpse Bride - One of the visually highest quality Blu Rays available, it really does look staggeringly good in HD. Good movie and definitely a keeper.
So yes. Once again, if you're thinking about buying some U.S Blu Ray discs, then be sure to check out this very useful page about which discs are region free.
---
Page 1 of 1 pages