Monday 4th February 2008
After some serious SingStar loving, and then later some slightly more serious SingStar hating, I've now returned to the SingStar loving camp.
I've been given a mention on the Official SingStar newsletter!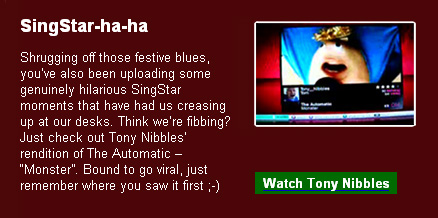 I like to think I've dug a little hole for myself in the SingStar online Community, so I'm pleased to see that my videos have been recognised by the official SingStar team.
Still - I'm looking forward to improvements. The SingStore is still lacking in updates, the ratings system doesn't work most the time and I have not been able to post a comment successfully since before Christmas… But thanks guys ;)
---
---